Designing
Your


Dreams

Home

Living Room

Bedroom

Kitchen

Office
With a design philosophy that is focused on you, we are here to inspire you with our ideas for your vision so that it may be brought to life.
Know-How : With the combined experience of professionals in the field of architecture and interior design, we are completely qualified in multiple disciplines.   Be it a residential or commercial venture, our expertise is spread across diversified projects. You can breathe easy because you are in the best hands.
Timely Delivery : Being one of the best interior designers in Mumbai, your time is our priority.  The process of planning, designing and execution is geared towards honouring the delivery of the project. We work towards completion of each stage methodically in order to achieve our goal.
Premium Quality : All our projects carry our signature penchant for superior quality raw materials, structures and interior decor elements.  We pride ourselves on our minute attention-to-detail and refined finishes that will stand the test of time. Your spaces will be elevated to a higher standard. 
Full Service : We are your one-stop-shop for integrated interior design and contracting solutions. Our experts are qualified to take on residential, commercial and hospitality projects of various scales. You are saved the bother of coordinating with vendors and teams at any stage of work.
Mumbai Interior Designers
"The best rooms also have something to say about the people who live in them." 
                                                                                                                 – David Hicks
Your home and business are nothing but an extension of yourself. This is the reason that we, at Mumbai Interior Designers, aim to understand your unique personality and preferences, before creating the interiors best suited to you. We are a professional interior design company who specialises in blending know-how with contemporary aesthetics. So your search for an interior designer in Mumbai or Pune ends with our integrated approach to conceptualisation and execution of every project. 
Our team of interior decorators in Mumbai and Pune has the technical expertise as well as aesthetic sensibility to give a tangible form to your interior decor dreams. It does not matter how extensive or intricate your requirements might be, we can assure you that we are prepared. This takes in-depth knowledge and technical insight. So, if you're on the lookout for an interior designer in Mumbai and Pune, we take your needs and requirements, like health, safety and welfare aspects into serious consideration too. Be it residential or commercial spaces, the architectural advantage that our designs bring is unmistakable and make us one of the best interior designers in Mumbai.
Choosing Mumbai Interior Designers for our recent home redesign was one of our best decisions. We were grateful for their professional inputs and solutions; they were supportive of our ideas, well-organized and captured the design we had in our mind perfectly..
We enjoyed collaborating with the team of mumbai interior designers experts who took the time to understand our vision for our 2BHK before planning the project within our budget and turning our dream into reality. We are pleased with their professionalism and adherence to all timelines.
We recently purchased a 3BHK as we were preparing to welcome a new member into the family and needed more space. We were delighted by the excellent and practical solutions which were provided to us by the friendly and knowledgeable team. The house was prepared just in time for our bundle of joy!
Mumbai Interior Designers took the reins from the very beginning, right from the design phase to the management and completion of the project. They were generous in offering several options and solutions to fit our needs, transforming our offices into a professional environment befitting our brand and inspiring all those within.
The young team of professionals that worked on our retail outlet project were ambitious and highly focused. They were clued into all the latest trends, energetic and went above and beyond to ensure an exceptional and functional environment for our patrons and staff.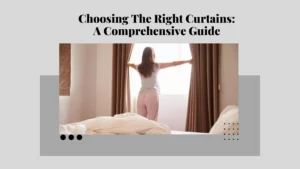 A) Blackout Curtains? Blackout curtains are essentially fabric drapes or shades designed to envelop your windows, effectively preventing sunlight and artificial light, including that emanating
Read More »