Interior Designers No Longer for Affluent, Way of Life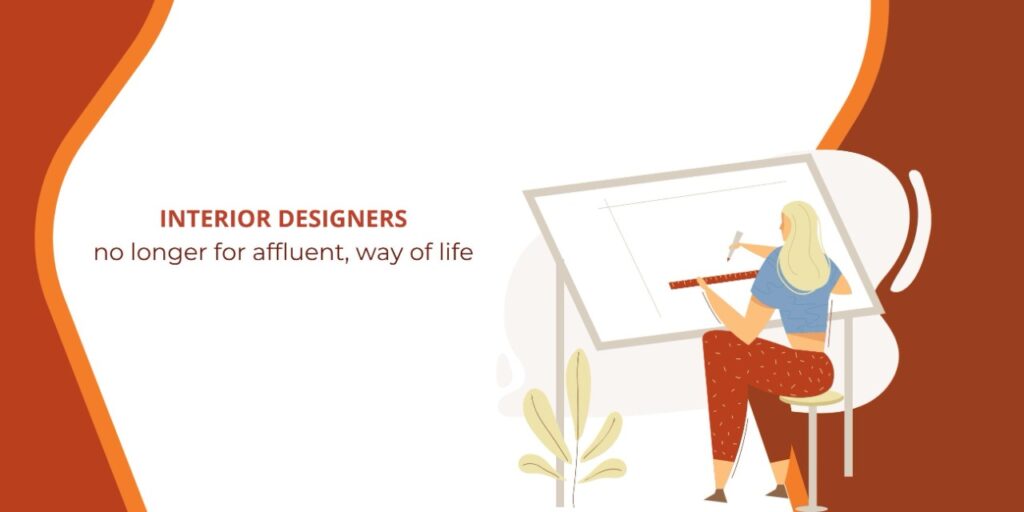 "An Interior is a Natural Projection of the Soul" – Said rightly by Coco Chanel.
In 2009, when exposed-filament Edison bulbs, barn-wood paneling, and brass accents were still considered fashionable, most designer goods were sold only to the trade, prices were frequently well-held secrets, and Instagram and Pinterest didn't even exist. 
Following that, as online services and applications expanded transparency, it made online design services accessible, and encouraged manufacturers to sell directly to customers -technology began to lessen the industry's grip. 
Despite the fact that 2029 might seem far away, many of the trends and ideas that will continue to alter the industry are already here.
Importance of Interior Design in Society
When you enter a residence, the ceiling and walls are intricately decorated. You fall in love with it right away and want to be like it or possess anything akin to it. 
However, gone are the days when interior design was just a show for a certain sensibility.  The concept of interior designing has evolved from 'luxury living to a way of life, which was once just access projected to rich people.
There is no doubt that the privileged class certainly wanted to create something unique from the rest, but art has been there for more than a century and now embodies much more than the simple luxury that is definitely here to stay.
In 2020, the estimated market for interior design was worth USD 150.7 billion. From 2020 to 2025, it is anticipated to increase by USD 24.13 billion, with a 4% CAGR predicted for the market's expansion.
The function of interior design in society and the contribution of interior designers will now be covered.
Interior Designing in Budget
One of the most expensive purchases in India is an apartment or flat, especially in metropolitan cities like Mumbai. It is a bustling commercial hub and is frequently referred to as the "city of dreams." As a result, real estate costs in Mumbai have reached incredible heights.
Mumbai house interior designing on a budget is a great concern. The costs and budget greatly influence the type and quality of interior design.
Mumbai Apartment Interior Work: What Does It Include?
You must comprehend the expenses of new house interior designing in Mumbai, particularly when it comes to flat interior Navi Mumbai and South Bombay.
We will now look at different types of houses and what are their requirements:
1 BHK Interior Designing in Budget in Mumbai
The potential for interior design is somewhat constrained in a 1BHK apartment because the living room and bedroom are both relatively small. 
However, purchasing necessary furniture and home accents like TV units, sofas, beds, wardrobes, and kitchen storage cabinets still comes at a hefty price in Mumbai. 
Planning for the expense of flat interior Navi Mumbai for a 1 BHK flat in requires taking into account a few important factors:
The quantity or amount of useful room you have
Choice of colors
The look of the furniture
Number of storage cabinets to be made
Mumbai House Interior Cost for a 2 BHK Flat
Let's discuss the variables that affect interior designing in budget for your ideal 2BHK! 
Area & Location
Designers will frequently mention high charges if your apartment is in the expensive western suburbs or the posh lanes of South Mumbai because real estate costs are similarly high in these areas. 
Design Preferences
Depending on the size of each room and the interior design theme you choose, the cost of decorating your two-bedroom Mumbai apartment will change. It will also vary based on your preferences for furniture materials and from one designer to the next.
3 BHK Interior Design Cost in Mumbai
An approximate Mumbai house interior design in the budget for a three-bedroom home is as follows.
Due to the location, size, and income of the population, the new house interior design in the suburbs may cost extra. Future residential areas or remote suburbs will cost less. High interior expenditures will follow high real estate costs.
Mumbai house interiors are evolving along with everything else around us as we adjust to the pandemic. Today, for instance, every family needs to have at least one workstation. 
Home interiors have had to adjust in a number of different ways due to the ongoing COVID-19 outbreak. A qualified designer will be necessary to help you design for the "new normal."
Why is New House Interior Designing Important?
Today, interior design is used by more people than just homeowners and has taken on a significant role in workspaces, healthcare facilities, and public spaces.
Due to the unique ways that a good professional interior designer also benefits society, graphic design is no longer the only topic of conversation.
The following are some of the several ways that interior design benefits society:
1. Good Design Promotes Speedier Revitalization
It is common knowledge that the environment in which we live and raise our families has a big impact on how we act and feel. 
Therefore, whether in commercial, public, or residential design, it is essential to create elements that are uplifting and calming after a long day. 
It would also hasten the process of regeneration and offer people more room to develop their creativity and positive energy.
2. It Supports Both Physical and Emotional Well-being
The goal of interior design is to make a space functional for everyone, not just for a new house or office. For instance, it's important to designate individual spaces for each family member when building a house.
It applies equally to business spaces, where it is vital to consider various human types and their particular needs throughout the design stage. All those who occupy the area can enjoy greater comfort, which benefits their overall physical and emotional well-being.
3. Encourages Sustainable Lifestyle Choices
The fast-paced nature of our life doesn't always require a plethora of hues in modern decor. In our culture, an environmental emergency is just around the corner. 
Therefore, it is essential to exercise caution in our behavior and in how we use the resources at our disposal.
Therefore, interior designers must inform their clients of the value of adopting eco-friendly materials and sustainable design components, as well as the benefits to society.
4. Advocate for Assisting People in Adapting to Societal Changes
The modern interior design industry as a whole is aware that homes today not only serve as a place for individuals to retire but also feature private places.
Therefore, residences have also evolved into temporary workplaces, classrooms, gyms, and other facilities with the aid of interior design. 
Additionally, as the globe undergoes a rapid shift, interior designers will be essential in gauging society's nerves and implementing modifications over time to meet changing wants.
5. Facilitates Smooth fusion of Contemporary With Enduring Classics
The architectural remnants of various cultures around the world reveal a complex history of decisions. Given that we live in the internet age, a few contemporary design features are also noticeable.
A top-notch interior designer should be able to fluidly meld many concepts from the past and present to create a design language that meets your needs. 
Additionally, it makes it possible for society to maintain its core principles while adjusting to new developments.
Conclusion
A unique aspect of an interior design firm's job is bringing diverse expectations together to create a finished result that each client can claim as their own. 
Whether designing homes or offices, it is crucial for a professional to recognize their clients' underlying concerns and create a finished product that meets their demands.
They also have the additional duty of promoting sustainability because they live in a world where resources are rapidly running out and it is imperative to be as sustainable as possible. 
Because of all of this, interior designers are becoming increasingly important and well-known.