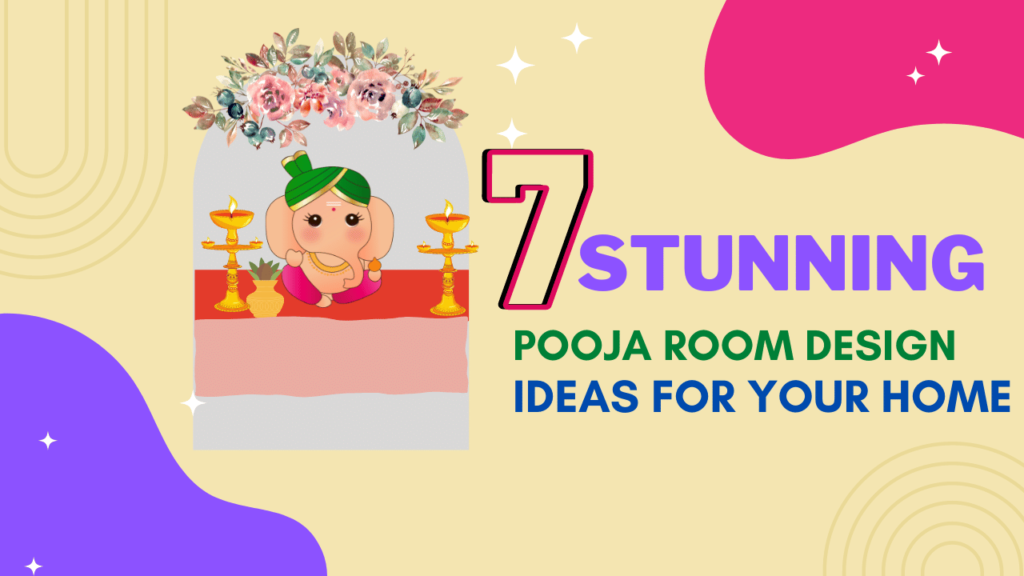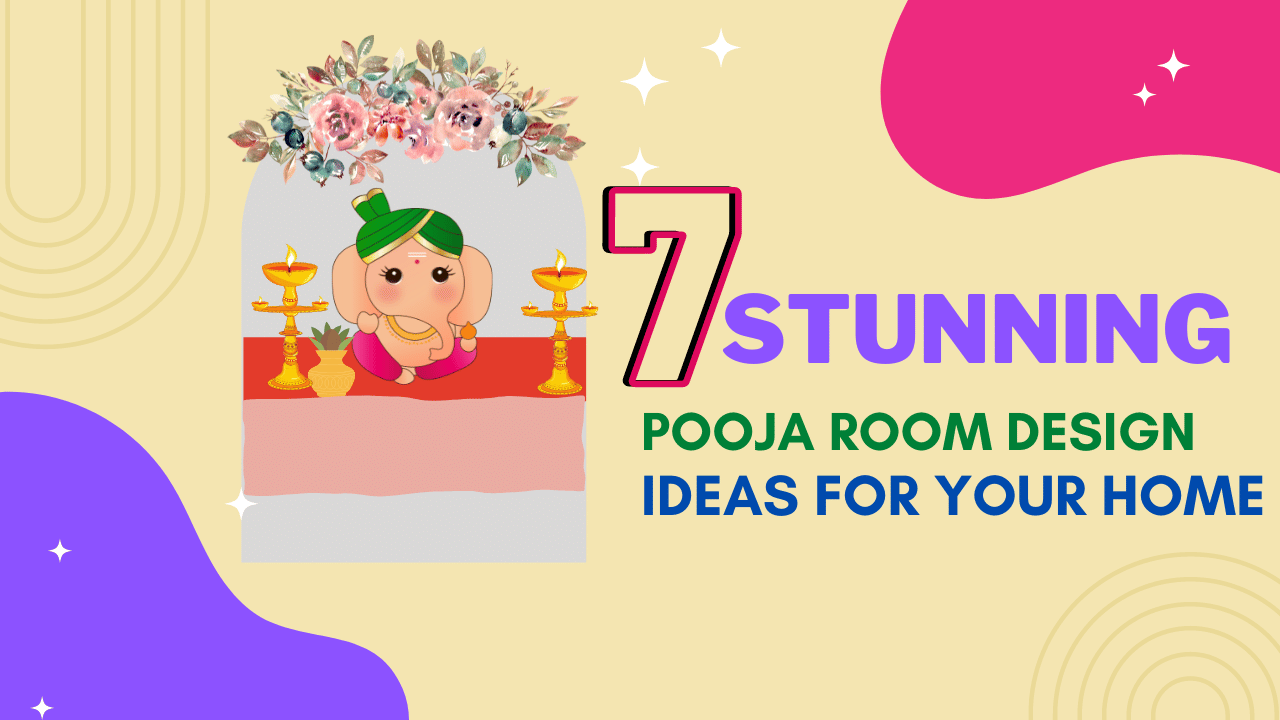 While looking at modern pooja room designs for your Mumbai flat, various factors are to be put into consideration like the space available, the materials, and the location. 
Striking a balance between providing the area a unique identity of its own and making sure it merges in with the rest of the house can be challenging. 
There are many different architectural styles to try, whether you want an elaborate space for worship rituals or a calm sanctuary where you may spend some time to center yourself and connect with the holy. 
Your quest is over if you're looking for the ideal pooja room design, whether it be modern, classic, or transitional! For inspiration, we've gathered some of the most exquisite pooja room layouts.
1. Integrated Within the Living Room 
The finest location for a pooja ghar is the living room if you don't have a designated area for one. Also, the living room is a Vastu-approved setting for your mandir. You have the option of selecting a design that goes well with your living room's decor or something entirely different. 
Add a classic mandir unit to give your contemporary living area a desi flavor. Creating a small bespoke puja space with a retractable screen is a good option if you do not have any spare corners in your home.
2. Designed in Wood
Nothing can conjure up the tradition as well as carved wood. So opt for a carved wooden pattern if you want your prayer area to serve as a reminder of your rich ancestry. 
Add bells and metal lamps that go with the unit to finish the look. Such a magnificent pooja room design curated in pure white will naturally instill a sense of prayer.
Custom tiles with a traditional aasan print can be used to enhance the design's simplicity and elegance. This design can be modified to fit a dedicated pooja room in a tiny flat. It is traditional but understated.
3. Pop-out Puja Counter
A wonderful space-saving alternative to a free-standing shelf is a hinged counter. It pulls out to make a great seat for diyas and other items then tucks back into the cupboards to match the furniture. A pair of glass shelves holding idols that act as both decorative accents and symbols of worship can be used to cap off the counter.
This minimalist corner exudes a soothing ambiance. With the only token of worship being a beautiful pair of idols at the far end of the room, twin spotlights seek to keep the focus on the puja platform. A marble-topped stool sits in the center of the room, serving as a pleasing centerpiece.
4. Spiritual Decor and Accents
A room can become peaceful and serene using spiritual touches and design. The ethnic accents that compliment the religious display from either the far left or the right corner can be scattered throughout the airy area. 
The line of idols on the window sill can serve as both a subtle shrine and an aesthetic statement. Elements like colorful mirrored pillows, sun-kissed jhoolas, and Kashmiri rugs might all contribute to the design theme.
5. Puja Closet
Sliding doors can be used to discover a tranquil haven. As soon as you enter, the atmosphere is peaceful and soothing to the soul. Place a small shelf with numerous items for devotion and meditation, a single seat and cushion, and a recessed light to cast a golden glow on the shrine. 
Wall grazing, a lighting method, can illuminate and highlight the embossed patterns on the wall panel. Also, a captivating focal point can be created by a single magnificent idol. Any available wall can be used to build a prayer room, and it doesn't take up much space on the floor.
6. Wall Puja Niche
The living room's wall niches are the perfect place to display artifacts and curios. The mandir can have a traditional old-world aspect thanks to the border, which is completely white in the jharokha style. Also, scripture verses are displayed in a lighted tableau inside the shrine. 
Niches can also gain a stylish touch! Walls can be covered in grey laminate with a stone effect. These units mix in perfectly if your house has white and grey decor. A design can be altered in this way to match the style of your house. They also blend in practically anywhere!
7. Standalone Wall Temple
The countless magnificent temples that dot our nation can be represented in miniature by a freestanding mandir cabinet. A tribute to the profusion of bells that hang from a typical temple ceiling can be used in the rows of bells on the doorways. 
It can be given a rustic lobby look to make it appear as if it were scooped out of the Earth. The bell decorations give the room some movement and act as a scaled-down representation of a temple interior.
Vastu Tips for Pooja Room
The mandir itself enhances the ambiance of your home — but other factors, like where it is placed, the colors you choose, how the idols are arranged, how the puja unit is laid out, etc., are also just as important. 
The following are some vital Vastu guidelines for the pooja room that will enliven and prosper your home:
Your pooja room should be built on the ground floor. Don't build one on the attic or upper stories.

Keep the northeast as the orientation for the installation of your pooja room.

Place your pooja room away from stairways and bathroom walls.

While worshipping, ensure your face is directed toward the north or the east.

Diyas and agnikunds must be placed in the southeast direction.

Use copper containers in your pooja room since they are auspicious.

The idols should be positioned such that they face either the door or one another.
Materials for Pooja Room Flooring
Since we pray or meditate here most of the time, the puja room is one of the few places in the house where we typically sit on the floor. Therefore, the flooring in the puja room should be cozy to sit on, simple to clean, and aesthetically pleasing. 
The type of flooring, its color, and its pattern are important design elements for puja rooms. Here you can learn about the best flooring options for pooja rooms if you intend to design one in your house.
Marble: For many homeowners, white marble flooring for the puja room is the epitome of immaculate and pure beauty. The puja room has a very traditional appearance because of the high sheen of mirror-polished marble.

Wood: The pooja room can be made warm and cozy — thanks to the elegant wood flooring. They provide warmth and keep you firmly planted.

Cement Tiles: Using colored cement tiles, pooja rooms can be decorated in traditional hues and designs. A flooring design that mimics a rangoli can be made using colored cement tiles and motif tiles. Such a flooring design gives the puja area a beautiful touch and looks joyful all year long.

Granite: Granite is a high stain-resistant flooring option that comes in a variety of styles, making it the perfect choice for a pooja room.

Ceramic and porcelain tiles: They provide a fashionable appearance and are reasonably priced. They make pooja room designs more colorful. They are reasonably priced and a wonderful way to add color to the puja space.

Vitrified Tiles: These tiles are simple to maintain and their beige and white tones can enlarge modest puja rooms.
Design Your Perfect Pooja Room
You should take into account a number of things when creating your pooja ghar. If your family is large, make sure there is enough room for everyone to pray. For all of the puja samagri, your mandir unit should also feature cupboards and drawers. 
Finally, make sure that the positioning of your idols and diyas, as well as the location of your pooja room, all, follow Vastu principles.